Windows 10 is getting a bash shell in the summer release. This is a couple of months away. But here are a couple of screenshots from developers I have found on the web that show what this will look like. Here a person is installing the bash shell using CMD.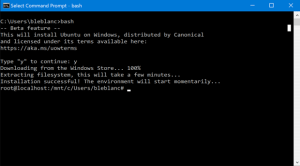 Now this is the bash shell running.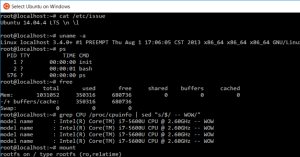 This person is using a root prompt. The /proc filesystem is even in place, the systems administrator is even able to get information about the CPU using /proc/cpuinfo. This means that the admin could use existing UNIX shell scripts on Windows, instead of rewriting them for the Powershell scripting language. I cannot wait for this to be released to the general public so that I can get a hold of this. I tried updating Windows 10 to the fast ring and enabling developer mode, but this does not work yet, I will wait a few months until the "stable" build of Windows 10 X64 has this feature. Or you could just install Ubuntu 16.04 in a VMware VM and then SSH into it from Bitvise or Putty. Same thing really.
Apparently, the prompt will not have the ability to overwrite certain files on the filesystem.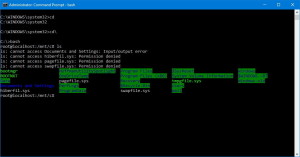 I wonder if the bash shell supplied with this is vulnerable to shellshock…