The Ubuntu 12.10 Linux distribution will be shipping with a dedicated Gnome option. So you will be able to download a Gnome Shell ISO of Ubuntu as well as the Kubuntu and Ubuntu options. You can already install Gnome Shell by typing sudo apt-get install gnome-shell to install the newest Gnome desktop on Ubuntu anyway; but if you want the Gnome desktop outright on Ubuntu then this is a good option for you. Will they call this Gubuntu? But seriously this sounds like a good idea, it would be better if the Linux Mint MATE desktop was available on Ubuntu as well, that desktop is very popular as a Linux desktop as it emulates the look and feel of the old Gnome 2.32.2 desktop that older Ubuntu distributions used. Now they have the horrible Unity desktop instead of a saner classic Gnome option. That is why the Linux community is divided over the look and feel of the Linux desktop; it is turning away potential users by putting heaps of crap like tablet interface desktops instead of improving what the Gnome desktop already had to offer. The Windows 8 RTM Metro interface is even worse; the feel of it is horrendous; the taskbar and start menu worked perfectly so why remove the start menu and force the users to use the keyboard instead of the mouse when that is what they are used to when navigating their desktop?
The Xerox Star computer system from 1981 had a mouse, icons on the desktop and it displayed documents on the screen just as they looked on paper. A far cry from the first DOS computers that came later. The first computer mouse was demonstrated by Douglas Englebart in 1968; he also demonstrated Hypertext documents, video conferencing, teleconferencing, email, hypertext, word processing, hypermedia, object addressing and dynamic file linking, bootstrapping, and a collaborative real-time editor. Imagine how far computers could have come if we had evolved from that instead of having Apple and Microsoft as we do now? The computing world would be totally different. One thing from the 1960`s that has come true is the tablet computer. They were featured prominently in the original Star Trek series; now they are everywhere. And we have those small communicators that the crew used except ours require cell towers everywhere to be able to communicate. But a person thrown forward in time from the 1960`s to 2012 would be amazed at the technology that we possess compared to say 1960. Someone from 1942 who came to 1984 would be equally out of place. Apple corporation would have a better reputation in the technology world if they would stop suing everyone who makes a mobile telephone that looks even a bit like the iPhone 5.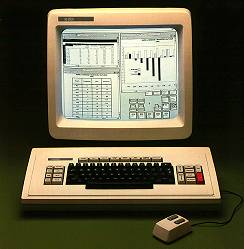 That is all we are doing these days; the litigation is harming the market and if Apple want to sell iPhones to outsell the Samsung `phones just make them better and they will be snapped up in droves. Getting back to the issue of the GUI interfaces that we are using today it is amazing the Douglas was investigating a control device that used your knee instead of your hand. Of course we know what technology won out; in the future we might be moving to a neural interface that involves a skull cap you wear and you control the computer that way. This link has some information on a promising technology that could offer something for the consumer: http://www.thinkartificial.org/machine-interfaces/first-consumer-brain-machine-interface/; this is a headset that allows control of your computer with your mind. I wonder if this will come to Linux; it could replace a desktop interface; you would just have an empty work-space and you think the words and they appear in your text document. That could allow you to write long dissertions and blog posts very quickly indeed; faster than with a keyboard and definitely faster than with a touch screen keyboard. The future looks very bright if we can move away from the keyboard and adopt a neural interface that could enable quadriplegic people to get into a exoskeleton suit controlled with a brain-computer interface and walk like everyone else.