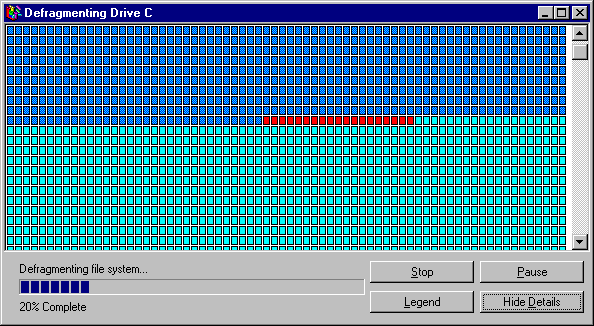 The early days of computing were dominated by computers that required constant maintenance. For example the Defrag program needed to be run constantly to keep your hard disk speed at an acceptable level. Otherwise it would gradually slow down as your hard disk became more fragmented. Watching the little blocks move around the defrag window was hypnotizing. I wish there was a screensaver that would show this in action over and over again with random defragmentation. That would be awesome. There is one for Windows here: http://auslogics-disk-defrag-screensaver.en.softonic.com/ but this actually does run defrag whilst displaying the screensaver. I wish there was a Linux version that would display this defrag process as just a screensaver. I would love to install that. The only links I can find point to the Windows version; it seems that no-one has written an xscreensaver hack for Linux yet. That is something that we need to have to make Linux even better. A good defrag screensaver. Another thing that I remember from the early days of the Internet is the Altavista search engine. Long before Google dominated the Internet; the early search engines. Yahoo also was dominant with their Geocities free hosting service that gave anyone the ability to create a web site and have their own space on the World Wide Web.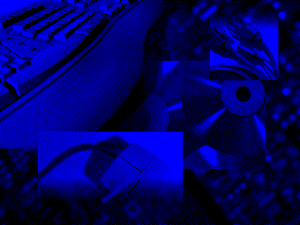 The Windows setup program also was the one that had this awesome background image. This depicts a computer keyboard and the setup CDROM. Windows also came on a stack of floppy disks as well; that would be quite an experience installing Windows and changing floppy disks about 24 times. Nowadays we can install an operating system from a USB drive and not have to burn a disk at all. But that is progress for you. Here is a photograph of the installation floppies for Netscape Navigator 1.2, the old browser suite that everyone used before Mozilla and then Firefox. Netscape Navigator was a very good web browser suite; it came with a HTML editor and an E-Mail client that allowed the user to create web pages and manage their E-Mail all in one. Nowadays the Firefox browser has a separate E-Mail client Thunderbird; but the HTML editor is nowhere to be seen. Although the browser is getting better as new versions are released. I am glad that we do not need to install software from floppies any more. Nowadays we download software or install it from a CDROM. Even flashing your BIOS could be achieved without the need for a floppy disk. Using a USB drive for this is possible with the right hardware support: http://www.evga.com/forums/tm.aspx?m=15265&mpage=1. This would be more reliable as well.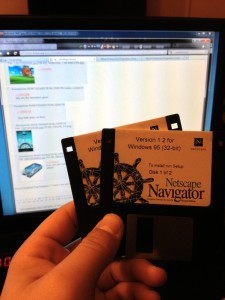 The Gnome desktop has moved on quite a bit since the early days of the Gnome 1.0 desktop that is pictured to the right. I have seen this recently on a computer that was running Redhat Linux 7.1; I have not used such an old version of the Gnome desktop for a very long time. But it did not work very well on a modern computer; that is why we do not use such an old Linux distribution anymore. Windows `95 and `98 are not used very often any more unless they are running in a virtualised environment. That is the best way to run Windows `98 these days; you could save a snapshot of the system and revert to it if the Windows installation becomes corrupted. But that can happen very easily when you are browsing the web and you get a malicious virus or program that destroys your data and forces a format and re-installation of Windows. Nowadays we can run a phone operating system in a window on the desktop in the case of the Firefox OS simulator that allows you to test the Firefox OS from Firefox with an extension. That is very cool by the way.