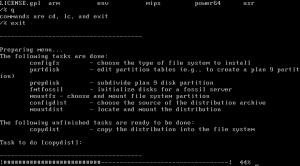 The plan9 operating system from Bell labs is a UNIX like OS that is a fun way to learn about operating systems. The installation when using the text based installer is quite counter-intuitive but this is a good learning experience. There are amd64 packages available to install your system, I had problems when installing this in VMware Workstation but now it seems to be working. There is a pre-made VMware image here: http://www.planb-security.net/plan9/. This should also work with Virtualbox.
For information on the differences between the UNIX and Plan9 command set, look here: http://www.plan9.bell-labs.com/wiki/plan9/Unix_to_Plan_9_command_translation/.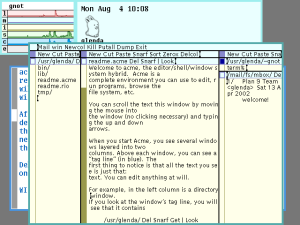 Read the FAQ for more information on using and shutting down Plan9 properly. This is a very interesting operating system project, but it is quite different to the UNIX based operating systems you might be used to. There is a different shell and kernel. The operation of this OS is the same though, it bootstraps into a running desktop just as you would expect from a modern OS. It is a new and exciting experience to install and use. I just wish there were different desktop environments to install. Anyway, give this a go and see what you think.