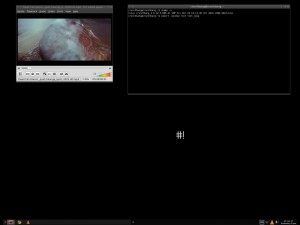 I have just loaded up the Crunchbang Statler Linux distribution and it is a very good first impression. It uses a very simplistic and fast desktop comprising the Openbox window manager and Conky that gives information about the status of your computer. The Tint2 panel resides at the bottom of the screen and, this provides a pager and an area for the system tray which contains the language icon, network manager icon and sound volume control. As you can see in the screen-shot, the desktop is quite dark and also very sleek and fast, the livecd included VLC media player, but no mp3 player like Xmms, but you can open a folder of MP3 files in VLC, then shift and click to select the whole folder full and click add, and they will be added to a play-list. The distribution works very well with my Netgear adapter and I had no firmware issues at all. This is a good Linux distribution if you are wanting to run Linux on a Pentium 4 or Pentium III and you are looking for something less demanding than Ubuntu with Unity or Fedora Core 15 with Gnome 3.0. Those two desktops need more development before they are ready for the mainstream, Gnome 3.0 includes GTK 3 as well, which uses CSS code to define it`s themes instead of the XML that GTK 2 themes have always used. The Gnome 3.0 interface is not that bad really, it just needs to mature before it is really ready for the desktop.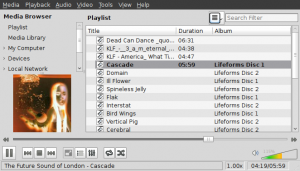 This screenshot shows the VLC media player with MP3 files loaded from a folder, and after you click the show playlist button you get this easy to use screen showing the files in order ready to play and enjoy. The default media player in #! Linux has no codec issues and can play just about any format under the Sun without any problems at all, and this means that you do not have to hunt around for codecs to play your media files at all. I was considering installing this distribution, but I am perfectly happy with Linux Mint 11. Crunchbang Linux comes with a 2.6.32 SMP kernel, GIMP v 2.6.10 for editing photos and Google Chrome v 8.0.552.224 that fills the role of web browser, being a lighter option than the Firefox browser that can be memory hungry.
Below is the link to the #! Linux website, here you can read more about #! Linux or download an ISO image and try it yourself. If you are using Ubuntu or any other Linux distribution, you can just burn the image to a CD/DVD with this command. sudo wodim -v -speed=8 -eject image.iso where image.iso is the #! ISO you downloaded. Then just boot from the disk and test out the distribution for yourself.