HyperV Server is a standalone hypervisor that allows a machine to host server instances without the overhead of a server operating system like Server 2012 R2.
Firstly, download the ISO image here: http://care.dlservice.microsoft.com/dl/download/3/4/7/347A95F0-A63C-492F-BE43-F376AE30C9FE/9200.16384.WIN8_RTM.120725-1247_X64FRE_SERVERHYPERCORE_EN-US-HRM_SHV_X64FRE_EN-US_DV5.ISO. 1.6 Gigabytes. Then burn this at a slow speed to a suitable DVDR disk.
Boot from the disk and choose to install a custom version of Windows. This is for a fresh installation. Once the installation is completed, and HyperV Server boots for the first time; you will be prompted to set a user password. This password must be of a certain complexity level. Once this is done, you will be able to boot into the minimal text only HyperV Server Core interface. A CMD prompt window will open with the text-mode interface for setting up your HyperV Server. I only had to configure the Remote Management and the DNS settings. The network adapter I have was already configured. The only other task was setting a computer name. I chose BIGRIGS as I have played that game and I like to name machines after it for some reason.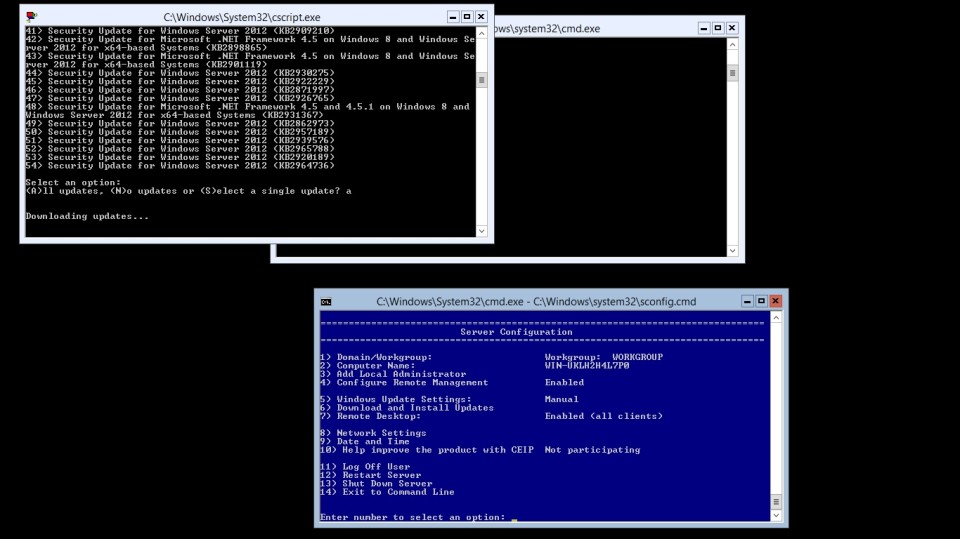 After this; select the option to search for pending updates for your operating system. I am in a hurry, so I am only installing recommended updates. Once this is done I may re-boot and then begin installing an operating system in the hypervisor. The HyperV Server does not have a GUI interface for configuring your HyperV instances, but this is why you use a remote manager like 5nine manager. This is the perfect software to remotely manage your HyperV server. You can also install HyperV on a client machine and use this to connect to a remote server instance.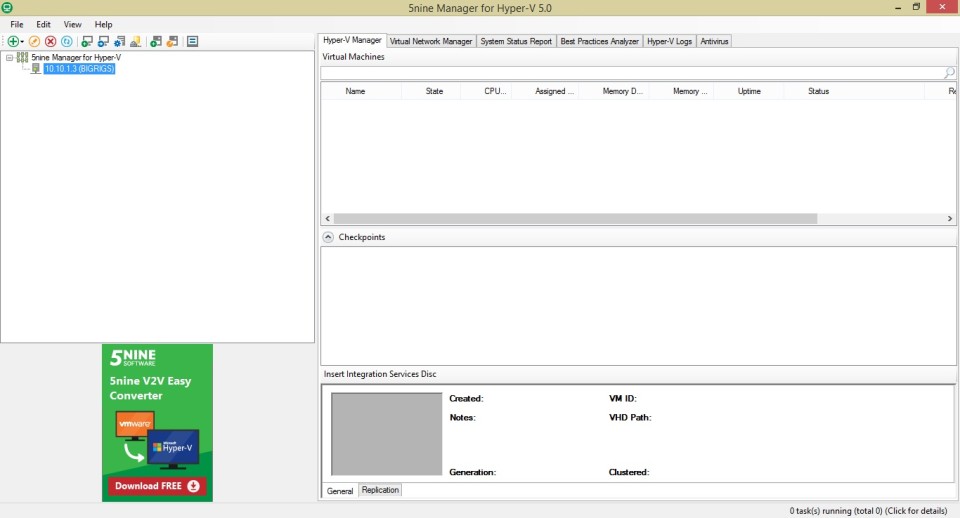 The above screenshot shows the 5nine manager ready to create a new Virtual Machine.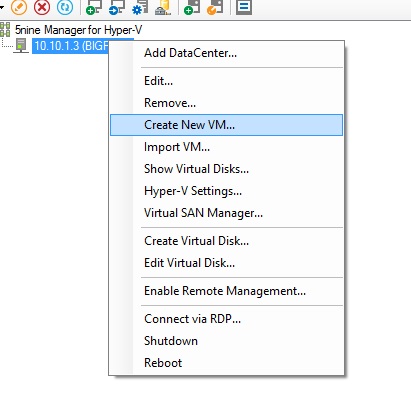 Right-click the IP address and select Create New VM…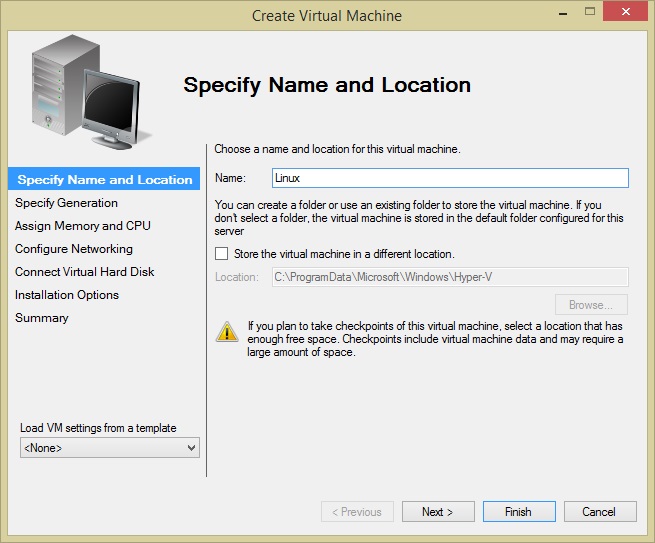 Specify the name for this virtual machine.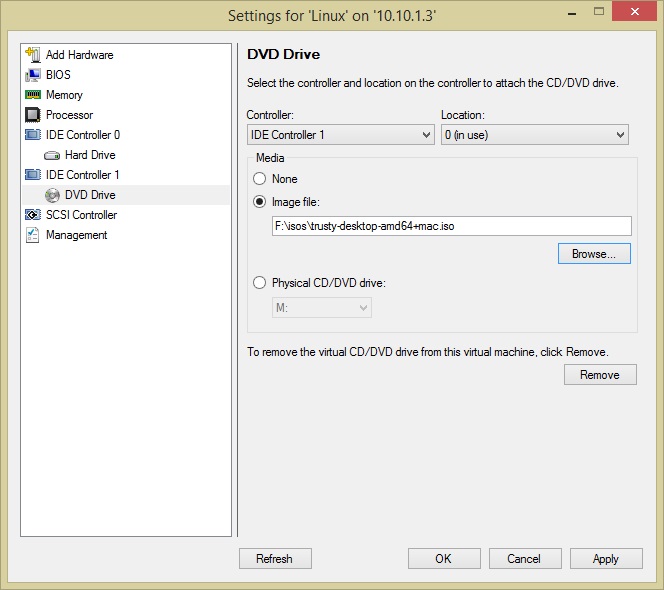 Then select an ISO image to install into the VM. I am using the images available on the server machine. This is Ubuntu Trusty 14.10.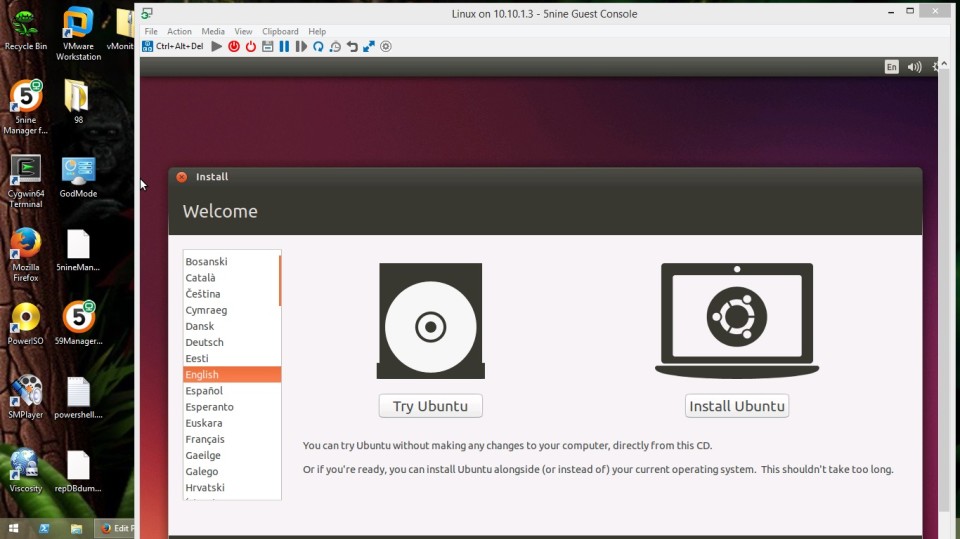 Then, start the VM and select view in console. This opens a window and allows you to see the running virtual machine. Now you may begin installing the operating system in the VM. This is a very easy process; I am currently installing Windows Server 2008 r2 in another Virtual Machine. That is to build an Active Directory server. 5nine manager saves your connections; they are opened instantly when you open the program again. It is very interesting that Windows Server operating systems are moving to a text only environment. As you can administer them remotely anyway. This system really does work very well; future Windows Server products will be command line only; Powershell is the future of Windows Server and gives great control over the server roles.