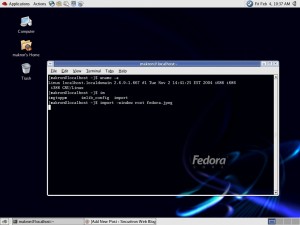 Some useful tips and information for users of Fedora.
Useful themes to make it look like the old Red Hat desktops.
This page has a selection of FreeBSD packages that have useful themes that you may use for your Gnome or MATE desktop: http://ftp-archive.freebsd.org/pub/FreeBSD-Archive/ports/i386/packages-6.0-release/x11-themes/. I am using the Bluecurve theme at the moment and it makes my MATE desktop on Fedora 19 look just like the classic Red Hat desktops of old.
How to update your Fedora system.
Type yum update to install any pending updates.
How to install the ATI beta drivers on Fedora 19 x64.
This post explains how to install ATI beta drivers for Fedora 19. This does work very well with the default kernel. The older ATI drivers apparently do not play well with the new Xorg release.
Fedora 19 installation guide with screenshots.
If you want to install the new Fedora 19 release and try out the new software; then follow this easy guide.
http://patscomputerservices.com/fedora-19-installation-guide-with-screenshots/