Installing wallpapers into the backgrounds folder in Enlightenment E17.
Installing wallpapers with the E17 window manager is very easy, mostly like the older Enlightenment E16 window manager. You may either copy the wallpapers into the ~/.e/e/backgrounds/ folder or import them with the backgrounds settings dialog.
[email protected]:~$ ls -hula .e/e/backgrounds/
total 24K
drwxr-xr-x  2 neo neo 4.0K Apr  4 20:20 .
drwxr-xr-x 13 neo neo 4.0K Apr  4 20:21 ..
-rw-------  1 neo neo 5.8K Apr  4 20:18 070116-F-2907C-176.edj
-rw-------  1 neo neo 5.8K Apr  4 20:20 1226762667025.edj
[email protected]:~$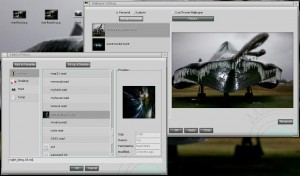 The background wallpaper selection dialog allows you to import *.jpg or *.png files as wallpaper for your E17 desktop. This is a nice way to spruce up your desktop. The Enlightenment E17 desktop allows animated desktop wallpapers, making this a very cool desktop to show off to your friends. The smoke theme for E17 is the best one to have if you want a digital clock in the system tray area instead of a tiny analogue clock. And it has a nice retro E16 look to it. This wallpaper off the E17-look website is the best I have seen yet, and very cute. http://e17-stuff.org/content/show.php/Gnome+Time?content=128725&PHPSESSID=5d7a1595a4ceef6aecb3f85519da8c34. This is a wallpaper of Tom Bombadils house with a cute Gnome sitting outside smoking a pipe. If this wallpaper will not work with E17, then type this command to convert the file to the latest version. edje_convert A-Gnome.edj Then it will work properly.