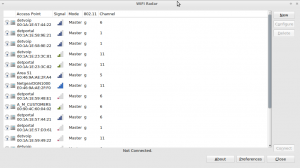 This application in the screenshot is the WIFI Radar application for Linux, this is a wireless scanning application that is useful for walking around a building and monitoring the WIFI signal strength in real-time. When doing a Wireless site survey with a Linux laptop, this application will perform that task admirably.
Install the software with this command.
john

@

debian-mint ~ $ 

sudo

 

apt-get install

 wifi-radar
And then use this command to run it.
john

@

debian-mint ~ $ 

sudo

 

/

usr

/

sbin

/

wifi-radar
You need superuser privileges to run this program as it is in the /usr/sbin directory. And make sure you disconnect from any Wireless networks before using this program for proper functionality. This application makes a wireless site survey very easy indeed. This is good for testing a new wireless network deployment and seeing how far the network extends outside the building and what the QOS is of the wireless Access Points you have installed. A wireless network is a very good thing to have in a building, the students or employees can access the Internet and network resources with mobile devices. This makes the network easier to use; but you need to make sure that the coverage of the network is sufficient for everyone. This application for Linux makes this job easy.
Sample Wireless Site Survey here.
http://www.dw-wifi.com/Lib/Docs/Sample%20Wi-Fi%20Site%20Survey.pdf.