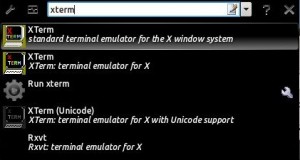 Useful KDE 4.8.0 tips. Useful tricks to make working with KDE easier.
To open a small run prompt to open any program, just press the Windows key and "r". This will open a prompt at the top of the screen allowing you to type a command such as 'xterm' and the requested application will be opened.
I have found a Crystal SVG icon theme here: http://kde-look.org/content/show.php/Crystalsvg+for+kde+4?content=138368. This will help those users like me that are pining for the KDE 3.x look. As shown in this screenshot below, you need to open System Settings, navigate to Application Appearance and then open the icon theme window. Then choose add theme file, navigate to the icon theme that you downloaded and add the crystalsvg tarball and it will be installed. Just extracting it to the ~/.icons folder will not work. Using the Plastique theme style will also help perpetuate the illusion you are using KDE 3.4. If only there was a desktop theme for the taskbar that would look like the KDE 3.4 Plastik theme. There is one here: http://kde-look.org/content/show.php/Klassik?content=117677. You can find this in the System Settings->Workspace Appearance->Desktop Theme window if you filter by rating and scroll down a bit you will find this theme. With this theme installed and the Crystal icons, you can easily believe you are running SUSE Linux 9.2 and KDE 3.4.
The default KDE 4.8.0 desktop is not bad, but a KDE 3.4 lookalike desktop is nice for those of us who have used KDE since version 2.2 and wish for a bit of nostalgia from time to time. I miss some things about KDE 3.4, but it is nice that the community can bring the look of the older versions to the latest KDE build for a new generation of users to enjoy. Linux is all about freedom of choice and that is what the Kool Desktop Environment brings to the Linux desktop. I like this KDE desktop as it behaves the way you expect. With Unity, I had strange results when I pressed Win-R.