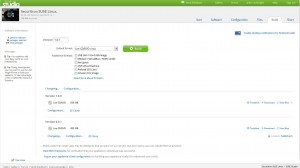 The SUSE distribution has a powerful tool for building a custom Linux distribution. SUSE Studio. This website allows you to create a Linux distribution with custom artwork and using whatever software you choose to deploy in the image. I have used this to build a live DVD ISO with the fglrx drivers slip-streamed into the disk and the miscellaneous software packages I love like Audacious, mocp and a KDE desktop. The ability to select custom wallpapers and bootsplash graphics is a valuable method of customizing your distribution and to make it your very own. Canonical should create this type of system for the Ubuntu distribution. That would enable users to login to a website and then create the distribution they wanted easily; but this seems like it will not happen now. The custom distribution you create is a live CD/DVD ISO; the size depends on how much software you cram onto the disk and you just need to build an ISO after customizing and then download it to test it out in Virtualbox or by burning a disk and then loading it up onto your computer.

The SUSE distribution has been around for a long while; nowadays anyone can jump in and create their own custom SUSE distribution to suit their specific requirements. That os what is so good about using Linux in 2012; the capability is there for anyone to build a custom disk image with their own artwork. You can even build a server with MySQL.
http://susestudio.com/home Build your own custom Linux disk image today.