To open a new virtual terminal to enter commands, use the Ctrl-Alt-F2 key combination and enter your username and password. This is a virtual terminal where you can control your system with a distraction free full-screen terminal.
There are key combinations to switch between virtual terminals, read more here: http://www.tldp.org/LDP/GNU-Linux-Tools-Summary/html/virtual-terminals.html.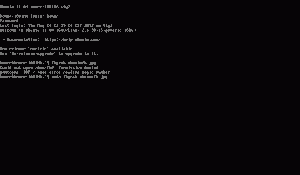 To get a version of the Windows 8 Metro screen on Linux, install the Metrolux application, this will enable a Windows 8 styled fullscreen experience. Get it here: http://gnome-look.org/content/show.php/METROlux+menu+with+CLOUD+apps.auto+inst.?content=165459.
How to RDP into a Linux Mint desktop from Windows 8.1: http://www.securitronlinux.com/linux-mint-2/how-to-use-xrdp-on-linux-mint-15-to-allow-remote-desktop-connections-from-windows-8/.
How to get your current Linux Mint version: http://forums.linuxmint.com/viewtopic.php?f=90&t=90484.
Upgrade Linux Mint 16 to 17: http://www.tecmint.com/upgrade-linux-mint-16-to-linux-mint-17/.