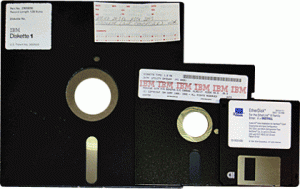 This posting will be looking at the various methods used to store our data in the old days of computing. Firstly the 8 inch floppy disk. The disk was pretty big, but the actual drives were extremely heavy, they were quite a handful. The 5 1/2" disk was better, you would insert the disk in the drive and then lock down the drive with a handle on the front before using the disk. Disks ranged from 360K Kilobytes capacity to 1.2 Megabytes. They could be double sided or single sided. The 3.5 inch floppy disk was encased in a hard plastic case with a sliding metal cover for the protection of the disk inside. They were a little better than the larger predecessors, but their reliability was not the best, and depended on the brand that you purchased.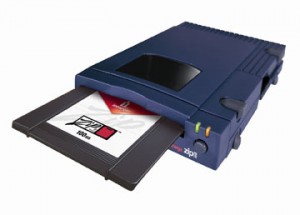 The Iomega 100 Zip disk was a good alternative to the 3.5″ floppy disk. Fitting 100 Megabytes of data on a relatively sized disk was a perfect alternative to the 1.44 Megabytes capacity of a floppy. These disks also came in 750 Megabyte capacity. They were very good, there were ATAPI drives that plugged into a parallel port and had a pass-through connection allowing you to still connect your printer whilst the drive was connected. Pictured to the right is a 12 platter hard drive cassette that you put into a washing machine sized reader and you use them for storing data. Cyberdyne in the movie Terminator 2 used these types of hard disk cassettes. These are seriously huge compared to the slim SATA II hard disks we have now.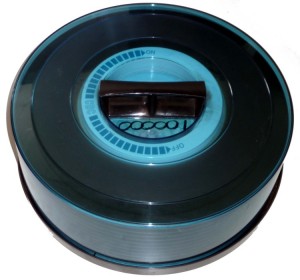 The huge disk reader for the CDC designed hard disk cassettes was a good system, but it would take up a lot of space. http://www.museumwaalsdorp.nl/computer/images/vs-cdc-844-disk-storage-unit.jpg. I am having trouble finding more information about this hardware, but it is a notable part of our history. The size of the disk storage unit is quite impressive and the disk packs are extremely large. The disk platters rotate at 3600 RPM and all of the IBM 3550 read heads move as one to read each platter. Modern computers use far faster hard-disks than this, but it is amazing that the disk packs are swappable allowing a business to store a significant amount of data.
Another method of storing data on a computer is magnetic tape. http://en.wikipedia.org/wiki/Magnetic_tape_data_storage. This is still used today for storing large amounts of data for backups. The large capacity of tapes and the ability to easily transport a full backup tape set off-site to ensure the safety of the data makes tape the best choice for backing up very large amounts of data and keeping it safe. You see tape storage in the movies with the large tape reels spinning backwards and forwards.