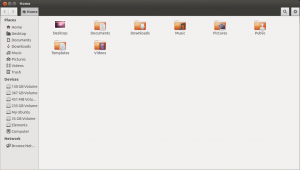 Ubuntu 12.10 Nautilus file manager. The all new look. Do you like this look or not? I just installed the latest Ubuntu 12.10 Quantal Quetzal ISO and this is the all new look of the Nautilus file manager. Ubuntu 12.10 is quite impressive, I installed the distribution from the Live CD by running ubiquity –no-bootloader and not ticking the boxes for the installation of updates and multimedia plugins during installation and the installation to a SATA II drive was done in record time. This is an improvement on previous Ubuntu releases and shows that Canonical are working hard on making Ubuntu even better. I actually like the new Nautilus layout, it is still usable and that is what counts in the end. I chose not to install the boot-loader as I already have Linux Mint 13 installed and I can load Mint after installation and run sudo update-grub to add Ubuntu.
Below I have included the ubiquity options. When you are running ubiquity on the Ubuntu Live CD, you do not need to use the sudo command to run it.
[email protected]:~$ ubiquity --help
Usage: ubiquity [options] [frontend]

Options:
  --version             show program's version number and exit
  -h, --help            show this help message and exit
  -d, --debug           debug mode (warning: passwords will be logged!)
  --pdb                 drop into Python debugger on a crash
  --cdebconf            use cdebconf instead of debconf (experimental)
  --automatic           do not ignore the "seen" flag (useful for unattended
                        installations).
  --only                tell the application that it is the only desktop
                        program running so that it can customize its UI to
                        better suit a minimal environment.
  -q, --query           find out which frontend will be used by default
  -g, --greeter         allow the user to leave the installer and enter a live
                        desktop (for the initial boot).
  -b, --no-bootloader   Do not install a bootloader.
  --ldtp                Name widgets in ATK by their GtkBuilder names, to
                        support LDTP testing.
  --enable-partauto-lvm
                        Enable LVM in the automatic partitioner.
  --no-webcam           Disable the webcam page.