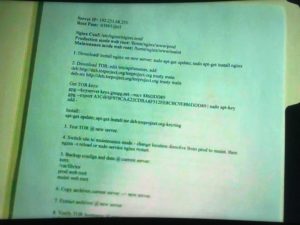 This screenshot from a Mr Robot episode shows setup instructions for the nginx web server, the TOR browser and what appears to be an overall plan for hosting an onion website on the TOR network. There are instructions for installing the GPG keys for the TOR packages. But the root password is shown in plain text at the top of the document. Is this what you would really do in real life? Oh, well, it is good seeing actual Linux commands in a TV show, even if the premise is not completely accurate. The Mr Robot character uses a Gnome desktop with an older icon theme. This is like an old Mandriva desktop in appearance. He does do various Linux networking tasks such as running the BitchX IRC client through an SSH connection. so I think this is a good depiction of Linux desktop tasks, but I know it is not totally realistic. I do not watch this show, I prefer Game of Thrones, but those who watch it would be more into the networking security side of computing and would know about SSH and TOR.
I am sure the desktop in this screenshot is Gnome 2. That is an older desktop now, Debian Stable uses the Gnome Shell desktop. I just do not understand why he would use uTorrent on Linux when Transmission is free and just as good or better. You click a magnet link in a web browser and then it opens automatically with transmission on Debian. That is very simple. There is even a command line version, transmission-cli that may be used if you are lacking a desktop environment and are using a Virtual Terminal or framebuffer console, that is very useful. Apparetly there is an explanation for having the password written down. One character is running some illegal online business. He has an incompetent IT guy. That IT guy got fired and Elliot took over. The old IT guy left that behind to tell Elliot what needs to be done. The guy who gave the paper to Elliot knows little about computers. That is why he wrote down the password. At least the password is not hunter1 or password2…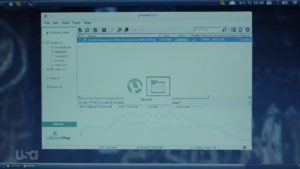 Why would you use uTorrent at all? Transmission is better, except on Windows it can only add 300 peers, but on Linux it can add 3000. And it is adware. Free software does not have this problem. Promoting the use of free software on television? I thought I would not see this in 2016. I thought that they would be pushing Windows 10 as the second coming of Christ. But it has many privacy and security issues as well as being bloated and laggy as shit. I will stick with Ubuntu/Debian and Windows 7. Windows 7 is still supported until 2020, so there you go.