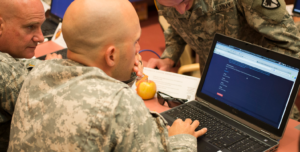 The US Army is training soldiers in cyberwarfare, using Linux in Virtual machines to learn how to use SSH and gain access past a SSH public key. The soldier in this photo is searching for "permission denied SSH public key", he wants to bypass this and gain access to a remote server. But bypassing a SSH public key is not trivial. His user-name is bravoteam. This is very interesting to see. They successfully attacked another PC and used SQLMAP to complete the objective.
The original photo is here: https://www.flickr.com/photos/ganatlguard/14399103762/.
Very interesting photo indeed, cyber challenges are always fun.