How to upgrade to a newer Linux Mint release.
https://community.linuxmint.com/tutorial/view/2.
How to update and upgrade your packages.
Type this in a terminal window.
sudo

 

apt-get update

 

&&

 

sudo

 

apt-get upgrade
This command will update the package repositories and download and install package updates over the Internet.
Find a nice apt tutorial here: http://securitronlinux.com/lc/13_apt_dpkg_tutorial.pdf.
Linux Mint Cinnamon users guide. Very useful for new Linux Mint users: http://www.securitronlinux.com/debian-testing/linux-mint-users-guide-very-useful-for-all-linux-mint-fans/.
Install new themes from the Internet on Linux Mint.
There is a good selection of Linux Mint themes here: http://www.securitronlinux.com/bejiitaswrath/lovely-gtk-themes-for-the-linux-mint-mate-desktop/.
I clicked the option on this window: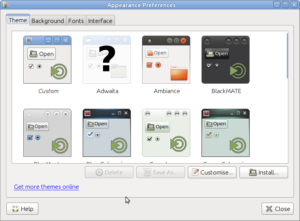 But when I clicked one of the links on the page that opened, I got an error that I did not have authorization. But the main themes page is here: https://www.gnome-look.org/browse/ord/latest/. Just download a theme and place it under the ~/.themes directory and the theme will be selectable in the theme chooser dialog. Place icon themes under the ~/.icons directory.
A short GIF showing how to change Linux Mint themes.