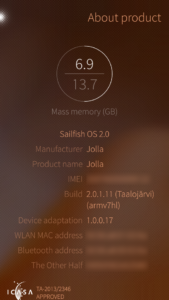 There is a new mobile phone available in India. The Intex Sailfish device runs a Linux based operating system and has an ARM CPU. This apparently supports Android *.apk packages, allowing the installation of Android apps. This phone could possibly run normal Linux applications as well as dedicated apps for the phone. This phone features.
Snapdragon 212, 1.3 GHz quad core.
2 GB or RAM.
16GB internal storage.
32 GB removable MicroSD storage.
720p screen.
8 Megapixel camera.
Dual MicroSIM
And 4G connectivity.
Not very impressive compared to a Samsung Galaxy Note, but not bad for a budget mobile phone.
There is a good variety of apps available and this would be a good option if you cannot afford a higher-end mobile device. But cheaper pre-paid mobile phones in Australia have higher specs than this. The Linux operating system is a selling point though. And Android has full terminal access when the user installs an app called Termux, this offers a fully featured bash shell that does not require root access on your device. Check the website out and see what you think of this new mobile device.
http://intex.in/intex-sailfish-os/.
Use this website to compare this phone with other market-leading mobile devices: http://smartphones.specout.com/l/3921/Intex-Aqua-Fish.