https://slowsoulburn.files.wordpress.com/2014/02/hr-giger_003406131.jpg This looks like a bunch of strange beetles crawling around.
http://cache.gawkerassets.com/assets/images/8/2011/10/space-jockey—enclosure.jpg The alien Space Jockey in his seat. As seen in the movie Prometheus.
http://wallpaperbackgrounds.com/Content/wallpapers/dark/occult/205915-22087.jpg This wallpaper is very dark and strange indeed. With Baphomet at the top of the image and a woman with a Xenomorph head, this is one strange picture.
http://www.meh.ro/original/2010_04/meh.ro3828.jpg Strange creatures loaded as ammunition into a gun. Very strange and cryptic indeed.
http://www.wallchan.com/images/sandbox/94583-hr-giger-the-tourist-x.jpg The Tourist. Another very strange Hr Giger wallpaper. But I like this one.
http://desktop.freewallpaper4.me/view/original/5956/hr-giger-art.jpg This is a beautiful Hr Giger wallpaper. This one shows a skull with a lens showing a womans face behind it.
http://wallpaperus.org/wallpapers/02/10/zdzislaw-beksinski-2715×1767-wallpaper-619580.jpg And here is an amazing painting by Zdzisław Beksiński. This depicts a strange being playing the flute.
Another painting by Zdzisław Beksiński. https://s-media-cache-ak0.pinimg.com/originals/48/7a/41/487a41d08f452cedaa195c23d9a52597.jpg A painting of strange floating stone megaliths with bells in them.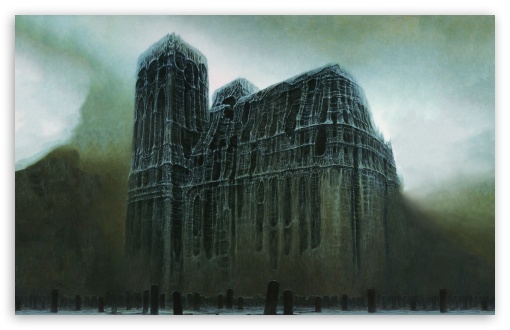 Zdzisław Beksiński album.