To take a screenshot of a Linux desktop over SSH; firstly you must set the DISPLAY environment variable.
homer

@

deusexmachina ~ $ 

export

 

DISPLAY

=:

0
Then use scrot to capture a screenshot of the desktop to a file.
homer

@

deusexmachina ~ $ scrot :

0

 my.jpeg
Since I am using my Windows Server 2012 laptop to connect to my Linux machine over a proxy, I installed the WinSCP application and this allows me to upload and download to my files over an SFTP connection. This provides a simple two-pane display of the local machine and remote directories.
Download this application here: http://winscp.net/eng/index.php. If you have sessions saved in Putty, these can be imported into WinSCP.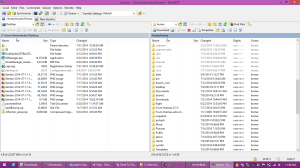 Here is how to retrieve the file using sftp.
Administrator

@

WIN-EM8GK0ROU41 ~
$ 

scp

 

-P

 

443

 homer

@

192.168.1.67:

/

home

/

homer

/

my.jpeg 

/

home

/

Administrator

/


LMDE MATE Editionhomer

@

192.168.1.67

's password:
my.jpeg
This is an easy way to take a screenshot of the Linux desktop and copy it to your local machine, either Windows or Linux.
And this is the screenshot that I was able to retrieve from my Linux machine to a Windows laptop. Purely using SSH.