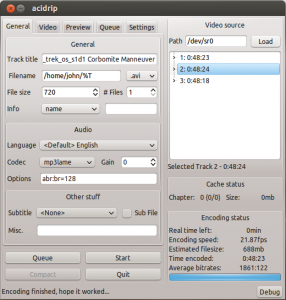 I was trying to install the Handbrake application on Ubuntu to rip a couple of DVDs and I had no luck as the dependencies were broken. So I installed the Acid::Rip package instead and that gave me a nice front-end to the mencoder DVD ripping and transcoding application. All you need to do is set the path to your DVD device and then it will display a listing of the titles on the DVD disc. Typically for a movie DVD; the longest title will be the movie; but in my case there are three titles that I want to rip; so I just select them one by one and rip them to an Xvid file on my hard drive.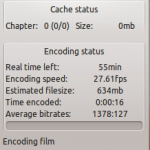 The Acid::Rip minimal mode is what you will see once you have begun the process of ripping a DVD. This program with default settings still rips a DVD with perfectly adequate quality; I recommend using Xvid and the default bitrate; you will be very pleased with the quality this application gives you.
The Acid::Rip package may be easily installed with this command.
zsh 1 % sudo apt-get install acidrip