The caps lock key on Linux is very annoying when hit accidentally. Especially when you are typing a password. This simple command will disable the key permanently.
[email protected] ~ $ setxkbmap -option ctrl:nocaps

If you put this in Startup Applications which may be found under System-Preferences-Startup Applications, the caps lock key will be disabled when your Linux Mint MATE desktop loads up. This is a very good trick.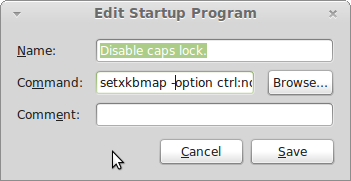 This way you will never be bothered by the caps lock key ever again.