Remove the icons from the Linux Mint MATE desktop.
This post will tell you how to disable the desktop icons on the Linux Mint MATE desktop. I prefer to have the desktop this way as it is a little faster and better looking. Just go to Applications->System->Configuration Editor in the MATE Menu as shown above. Or System Tools->Configuration editor if you are using the standard Mint menu. This will also work with Ubuntu if the MATE desktop is installed instead of KDE or Unity.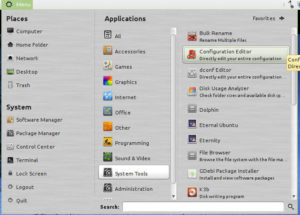 Then navigate the tree to apps/caja/preferences and untick the show desktop button and the icons will disappear. Of course you may simply reverse this procedure to re-enable the desktop icons. This will make your MATE desktop slightly faster. Then you will have nothing obscuring the desktop wallpaper. Due to a bug that is still present from Gnome 2.32.2, you will need to re-enable the desktop icons to change the wallpaper. Apart from KDE 4.8.3, the MATE desktop is the best modern Linux desktop and little tweaks like this make it better still. The MATE desktop offers the most freedom to customize your desktop and layout to suit whatever you are using it for. That is why Linux is better than Windows. Windows 8 will let you change themes; I had a Macintosh OSX theme installed. But you can do that with MATE as well. And you do not need to worry about the many bugs that are present in Windows 8. Linux offers open-source software that will do exactly what you wish it to without any hassles. Having the desktop laid out exactly the way you want does help with productivity.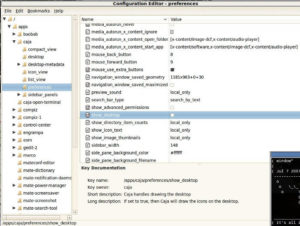 There is now another way to do this, using the MATE Tweak Tool. This allows the user to remove desktop icons with a single click.
Install the mate-tweak utility.
sudo

 apt 

install

 mate-tweak
Then run it from the terminal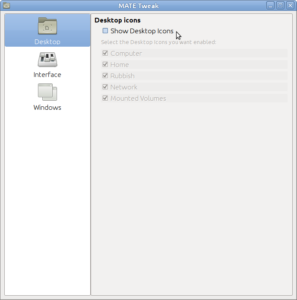 More information on this cool little app: http://www.securitronlinux.com/bejiitaswrath/tweak-your-linux-mint-mate-desktop-with-this-useful-app/.
More information: http://mate-desktop.org/. There are also some incredible themes available for the MATE desktop; these are well worth installing to make your desktop stand out from the crowd.