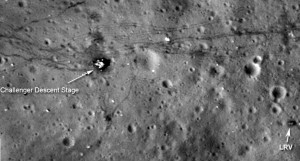 New images have been released by NASA of the Apollo moon landing sites showing the lander and other material on the lunar surface. As well as the many tracks left by the lunar rover buggy that the astronauts rode around the lunar surface. The LRV vehicle is also visible on the right of the picture. This does confirm that the moon landing was real and that the lunar rover has left tracks all around the landing site. This goes to show that the moon is very rocky as reported by the astronauts who did the first landing. I hope this will put some of the moon landing conspiracy theories to rest and then we can move on from such stupid accusations.
http://www.nasa.gov/mission_pages/LRO/news/apollo-sites.html
I have always enjoyed looking at the moon knowing that people have set foot on its surface. Sadly in the future only private enterprise, China or India will be going there in future.